Financial Aid
& Scholarships
Dear Friends of CMS,
In our 2022-23 school year, CMS student enrollment increased a phenomenal 68%, and our enrollment of children from low income families who receive financial aid (and pay what they can) reached 104 kids. Simply put, there is clearly tremendous demand for high-quality music education in the Lehigh Valley, and CMS has proven that we are ideally positioned to meet this need. However, CMS alone cannot fully fund this need; we need your generous support to help make high-quality music lessons and performance opportunities accessible and affordable to everyone in our community, including children from low-income families.
CMS is delighted to serve so many more students, but to welcome all the families in need in 2022-23, we had to fund $97,000 in student aid, far more than our budgeted amount of $60,000. This year, we expect to fund over $100,000 in aid, even as we have raised pay for our teachers. In short, CMS and our students need your support, now more than ever. I invite you to explore our latest newsletter and learn more about our exciting growth and innovative programming. Clearly, thanks to your support and that of others, CMS is fulfilling its positive mission. Together, we are impacting the lives of record numbers of families across the Lehigh Valley and Berks County.
I am very grateful for loyal donors like you who support our valuable and proven mission. In this season, please make a generous gift to CMS that will help us help others in need, by giving the gift of music education. On behalf of our students, teachers, staff, and Board of Directors, I thank you for supporting quality music education for all, at CMS!
Sincerely,
Jeff Reed
Executive Director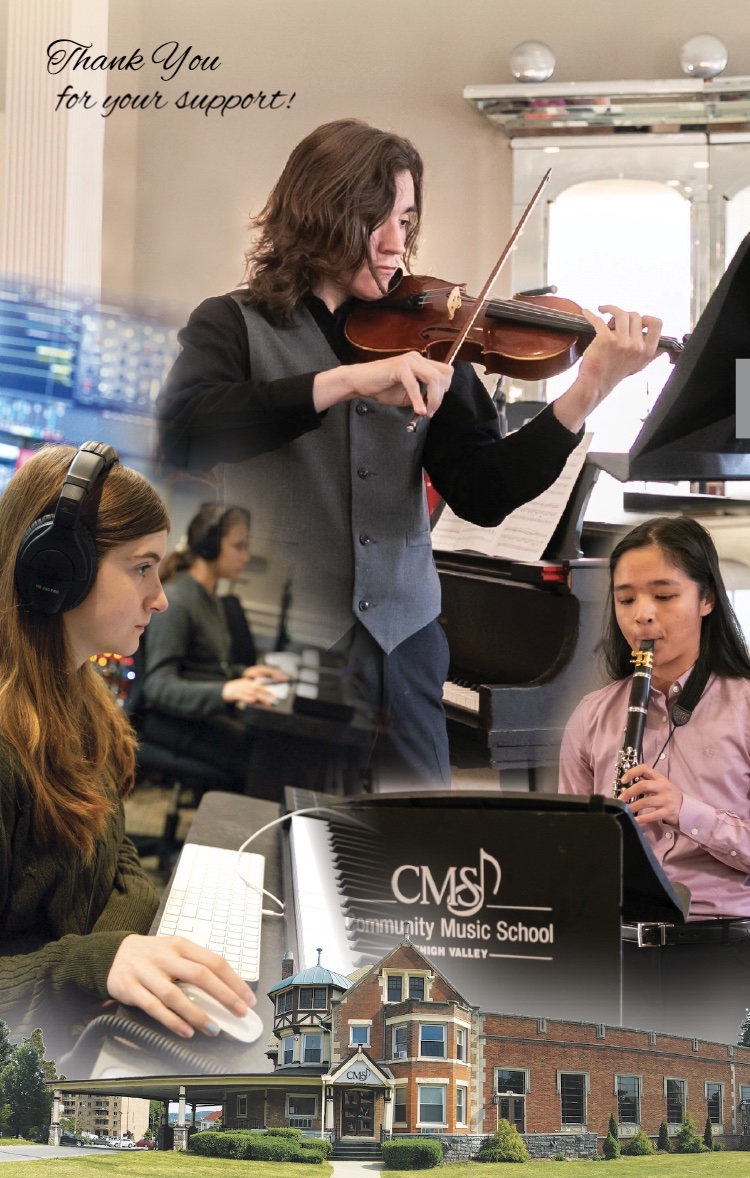 Financial Aid
& Scholarships
This summer and 'back to school' season was one of the busiest on record here at CMS. Check out some of the highlights below. Subscribe to our monthly email newsletter, and get the full story at cmslv.org/news.  
2023 Gala Scholarship Recipients Each spring, CMS faculty recommend their highest performing students at all levels for an audition before an independent panel of judges.   Students with the highest scores in the auditions performed at the Gala Recital on May 21, 2023.  
Jerome & Martha Markowitz Scholarship – Isaac Sharma, flute, student of Elaine Martin; Muriel I. Frank Scholarship – Harmony John, piano, student of Kelly Hooper; Schadt String Scholarship – Siddharth Chitta,violin, student of Linda Kistler; Schadt String Scholarship – Shriya Chitta, violin, student of Linda Kistler; Schadt String Scholarship – Rene Kim, violin, student of Carolyn Gaul; Joseph Maletz Scholarship – Emily Ma, piano, student of Lynda Chen; Great Expectations Scholarship – Sebastian Santiago, piano, student of Kate Uhler; Great Expectations Scholarship – Maanya Gope, voice; student of Julia K. Walsh; Rising Star Scholarship – Aanya Sharma, flute, student of Elaine Martin. This year's judges were Kaylee Santanello, Director of Middle School Orchestras, Parkland School District; Chris Klump, Band Director & Music Teacher at Notre Dame High School; and Patrice Kidd, retired Director of Music, Moravian Academy Middle School.  
Ceiran Magee is the 2023-24 CMS Maletz Scholar This scholarship honors CMS founder, Martha Maletz, who provided for a scholarship in her will. Martha passed away in 2019 at age 96, and her adult children donated funds to establish an annual scholarship in her name. The Maletz Scholarship honors a CMS student of impressive merit and extraordinary potential whose family also has financial need. This full scholarship covers the cost of private violin lessons at CMS during the 2023-24 school year.  Ceiran was in 2022 named the CMS Amaranth Scholar.  Ceiran (center) is pictured here with his violin teacher Carolyn Gaul (left) and piano teacher Kelly Hooper (right).  Ceiran is a senior at Lehigh Valley Charter High School for the Arts in Bethlehem, with a concentration in violin.  He plans to attend college and study violin performance.
Naomi Herrera is the 2023-24 CMS Amaranth Scholar Naomi Herrera was recognized for outstanding dedication to her studies in piano, violin, and voice, at CMS. The Amaranth Foundation Scholarship is awarded to a CMS student who demonstrates a high potential for achieving excellence in music education and whose family has documented financial need. The Amaranth Foundation was founded by Joan Miller Moran and supports arts-related programming and organizations, including CMS.  Noami (center) is pictured here with CMS ED Jeff Reed (left) and her piano teacher Kathy Anthony (right). 
2023 Piano Achievement Certificate Recipients Announced  The CMS Certificate of Musical Achievement Program in Piano allows students of all levels to demonstrate their yearly progress and set goals by performing two pieces (3-15 minutes) & technical studies for a panel of judges.  This year's judges were Kelly Hooper, Program Coordinator & Piano Faculty at CMS, and Dr. Annie Tindall-Gibson, former Piano Faculty at CMS, Artist-Lecturer at Moravian University, and Director of Music at Allegheny Evangelical Lutheran Church.  We congratulate all the students who earned their certificates (*with honors):  Primary – Connor Felix; Level 1 – Anferny Vizcaino* & Ethan Lin; Level 2 – Janelle Do*, Emmanuel Trotter*, & Joshua Ruiz*; Level 3 – Josiah Ruiz*, Sebastian Perdomo*, Jessica Lindmark, & Ian Lindmark; Level 4 – Diya Soman*, Matthew Brandle*, & Elena Bernini*; Level 5 – Alexander Bernini* & Naomi Herrera; Level 7 – Ceiran Magee.
Faculty Showcase Our summer showcase series highlighted three faculty members: Griffin Woodard, bass clarinet (with Hugh Kline, drums); Joe Wagner, guitar; and Kelly Hooper, piano.
New Group Class Sessions   Music Explorers Day, Kindermusik, Music & Film, Intro to Piano, Suzuki Violin, Recording 2.0, getJazzed Day, & more!  Check the website for details and to enroll. Our ensembles also welcome new members any time throughout the year!
Summer Camp Fun At CMS It was an exciting summer at CMS!  Dozens of students participated in a variety of summer camps in piano, ukulele, violin, and recording technology.  On June 21, we celebrated Make Music Day with our new Music Explorers Camp.  Campers had a full day of fun and learning with our "musical instrument petting zoo" on keyboards, drums, Flutophones, violins, ukuleles, and guitars.  Teens in our Music & Film Camp spent two weeks in the CMS recording studio as they created, filmed, edited, and scored their own short films to enter into the 2024 Allentown Film Festival.  Our Build-Your-Own Ukulele Camp students created their own ukuleles to play and take home at the end of the week.  They designed, painted, assembled, strung, and tuned their new instruments, and then played them in our end-of-camp performance.  Intro to Violin and Intro to Piano students also had fun weeks learning the basics of their instruments and performing for their families at the end of camp.  In August, we had a "full house" for our new Intro to Ukulele Workshop at CMS Berks.  
In June, we continued our 20+ year partnership with the other downtown arts organizations to produce the week-long City Arts Camp for elementary and middle school students.  The City Arts showcase performance at Miller Symphony Hall: "The 1960s: Peace, Love, & Hope" featured performances of music on Flutophone, ukulele, violin, and voice, along with dance, theater, and displays of the students' visual art projects with CMS teachers Chris Klump, guitar, and Elaine Martin, flute.  We also led a 6-week Summer Explorations Program, to bring general music and ukulele lessons to students at Hays Elementary School in the Allentown School District.
CMS at "Musikfest"  Musikfest is always the highlight of our summer here at CMS, and this year did not disappoint. Despite the rain and the humidity, 29 of our students had amazing performances on the Plaza Tropical stage on Thursday, August 10.   Our full 90-minute lineup included selections on piano, guitar, violin, ukulele, and voice, plus an energetic performance by our Modern Band, led by Kate Uhler, and a premier performance by our House Band, led by Joe Wagner. 
CMS at "Art in the Park"  Saturday, September 16 was an absolutely beautiful day of art and music with our neighbors in West Park!  We thank all our student and faculty performers who performed at West Park Civic Association's 48th Annual Art in the Park event, especially faculty members Kelly Hooper, piano, and Joe Wagner, guitar.  We also thank our dedicated volunteers who helped with our "Musical Instrument Petting Zoo" and information booth during the event:   Board Members Mary Hahn, Tom Fenstermacher, Carmen Flosdorf, and Ellen Roberts, CMS alum Charlie Hahn, and current students Kaled Brito and Brenda Antonio.  We also thank Martha Reitz of Glass Garden Art who held a fundraiser for CMS at Art in the Park and raised $500 for financial aid for our students.
1528 Construction Traffic & Parking Updates  As you may have heard in the news, HDC MidAtlantic began construction of a new four-story, apartment building on the parking lot directly east of the CMS building on September 18, 2023.  HDC and EG Stoltzfus are working closely with CMS Executive Director Jeff Reed to ensure safety for CMS students, families, and staff, both during and after construction of the apartment building.  We will continue to communicate updates on access and parking via cmslv.org/1528construction, email, and SMS/text.
Teachers   We recently welcomed new teachers Abigail Zuckert, piano, ukulele, voice; Marissa Broome, violin, viola, cello, double bass, piano; Lauren Curnow, voice; and Vincent Trovato, piano accompaniment.  We are excited to have these experienced teachers join our talented faculty to help meet the increasing demand for lessons.  We also wish all the best to these CMS teachers who have now moved on to other career opportunities: Denise Williams, Cliff Tracy, Ellie Pruneau, William Marshall, and Mikaela Krall. 
Financial Aid
& Scholarships
Thank you for your support!
Tax ID #23-2201343 – Community Music School (CMS) is a 501(c)(3) nonprofit organization and is registered as a Charitable Organization in the Commonwealth of Pennsylvania. The official registration and financial information of Community Music School may be obtained from the Pennsylvania Department of State by calling toll-free, within Pennsylvania, 1-800-732-0999. Registration does not imply endorsement. 
CMS does not discriminate on the basis of gender, race, age, creed, color, sexual orientation, national or ethnic origin, gender identity, disability, or level of family income in its education programs and admission, employment, and financial aid policies.