Join the band! Modern Band teaches middle and high school students to perform, improvise and compose using popular music that they know and love including rock, pop, Latin, reggae, hip hop, R & B, and other modern styles. No experience needed. CMS provides all instruments. Modern Band classes feature guitar, bass, keyboard, drums, vocals, ukulele, bucket drums, and more! Weekly rehearsals, numerous free performance opportunities.
Day & Time
Mondays 3:30-4:30 pm
Advanced Class, by audition; must also be enrolled in private lessons.
Wednesdays 5:30-6:30 pm
Beginner Class, no experience needed; all middle and high school students welcome.
Cost
FREE, thanks to a generous grant from The Dexter F. & Dorothy H. Baker Foundation
New Student Sign-Up
for Sept 15 - Oct 6, 2021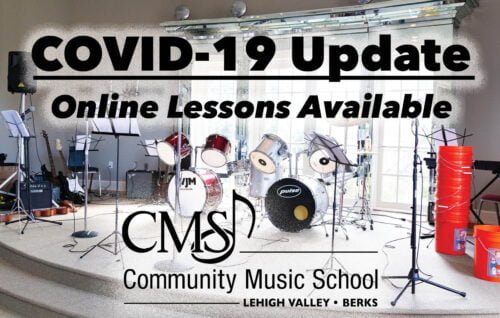 For the safety of our students and staff, the School has suspended all group classes during the COVID-19 pandemic.The CMS building will remain closed until the state-mandated COVID-19 restrictions are lifted, and the Director and the CMS Board of Directors determine that it is safe to resume in-person lessons. We encourage students to use this time to develop their skills in their chosen instrument by signing up for online private lessons.