COVID UPDATE 1/19/21:  Due to the COVID-19 pandemic, the CMS building is currently closed.  We are accepting tentative event rental reservations for September 1, 2021 and beyond.  Rental clients and their vendors must follow all occupancy, risk mitigation, and safety guidelines in place at the time of the event.
A unique & intimate venue in Allentown's West Park
In the setting of the former Lehigh Valley Club, Community Music School's multi-functional event spaces provide an art-deco backdrop and dazzling ambiance.  We have two unique and elegant options for your next special event that can accommodate up to 180 guests. 

We are not an all-inclusive event venue; therefore, our affordable packages allow you the opportunity to customize your own event by choosing your own food, décor, and music. The atmosphere of the building boasts a blend of old and new; you can choose to transport your guests back in time, have a contemporary theme with the latest trends, or anything in between. We want to hear how we can bring your vision to life!
Laura Burcaw, Program Coordinator   |   610-435-7725   |   email
Dorothy H. Baker Hall
Dorothy H. Baker Hall is perfect for large events such as weddings, banquets, and performances. This grand room features high ceilings and large windows, original chandeliers and mirrored décor, a stage equipped with a speaker system, a dance floor, an outdoor terrace, and access to the kitchen and the historic entry hall. The Hall's illuminating yet neutral façade complements any decorating style. Our Steinway concert grand piano and professional musicians are available upon request (additional fees apply).
Baker Hall capacity with banquet-style seating: 80-120, depending on the type of event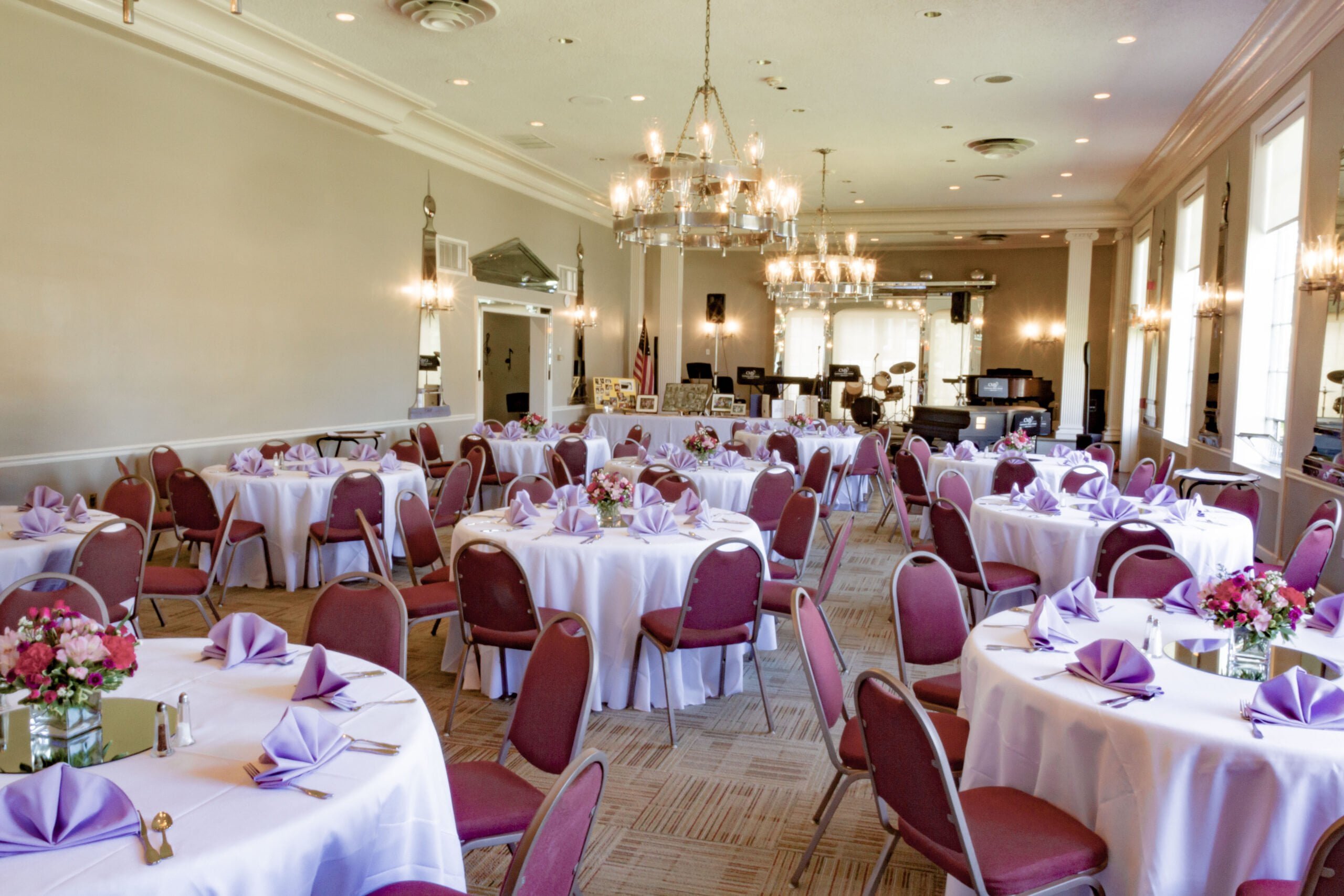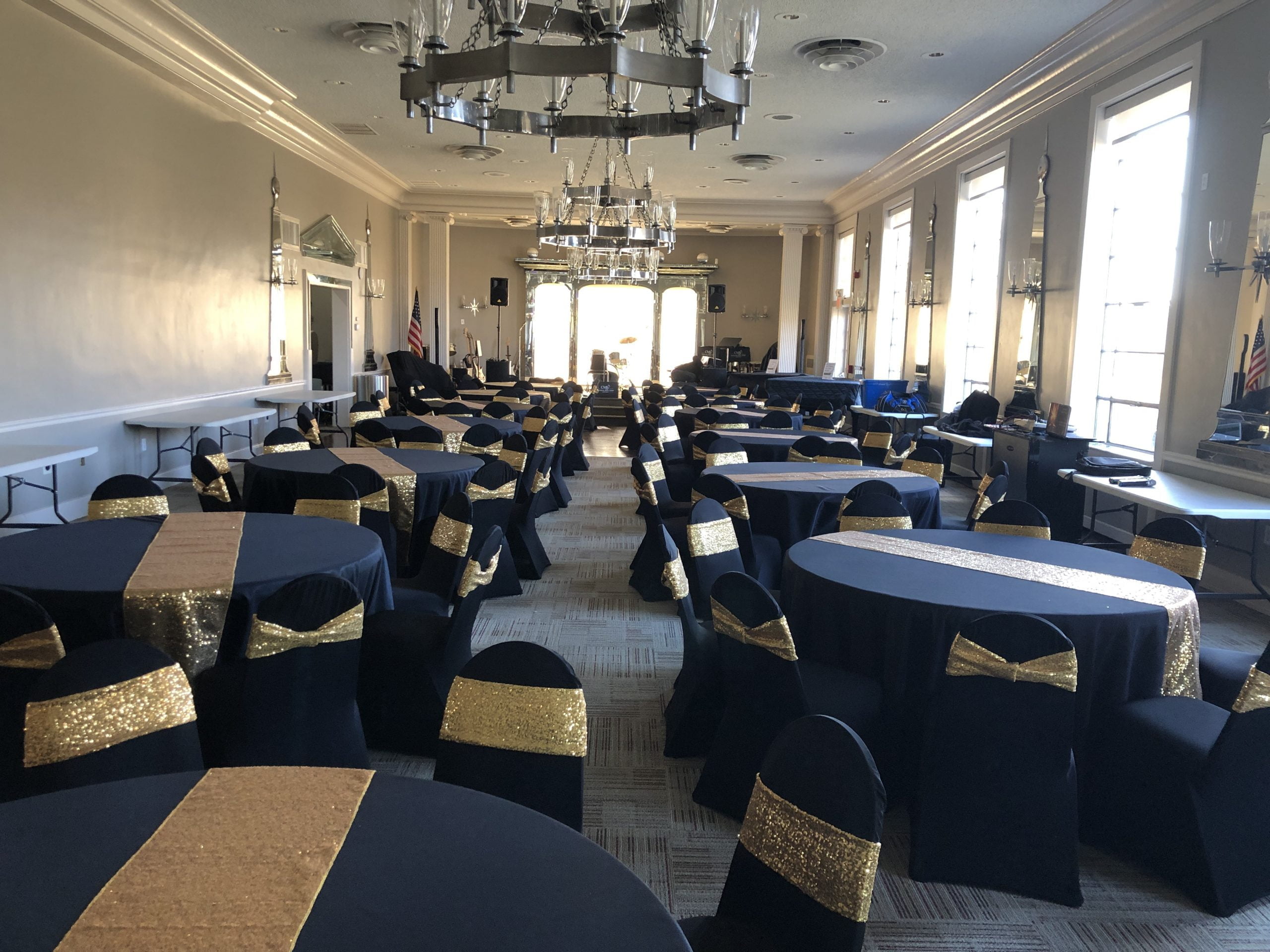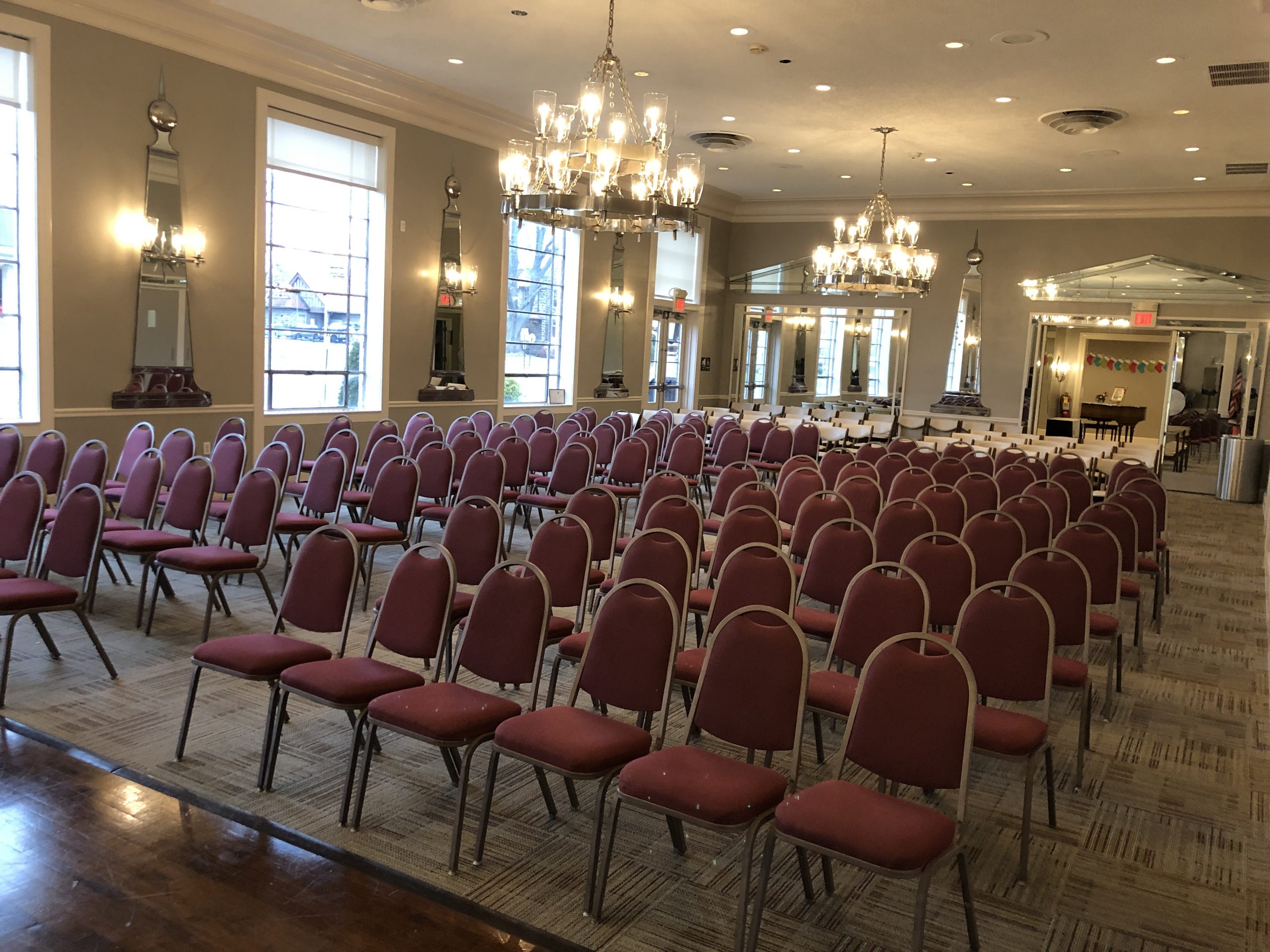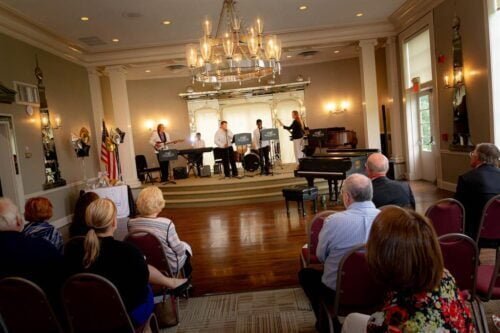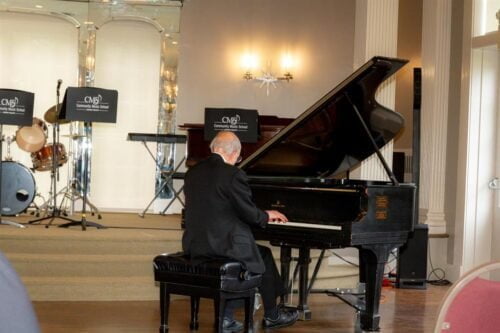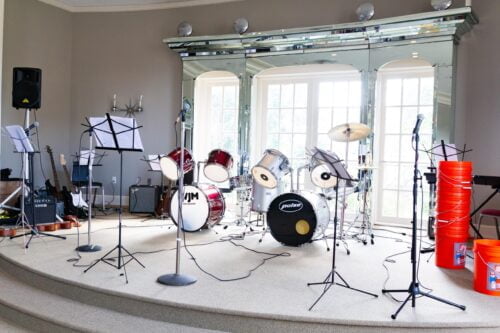 Hess Lounge
Hess Lounge is suitable for smaller events such as showers, cocktail parties, brunches, and business meetings. A tribute to the Lehigh Valley Club and the Max Hess legacy in Allentown, this unique space includes the original 1952 bar, lounge tables and seating, and décor. The room is garnished with hues of green and blue and is sure to add a pop of color to your event. The grand piano and professional musicians are available upon request (additional fees apply).
Capacity: 45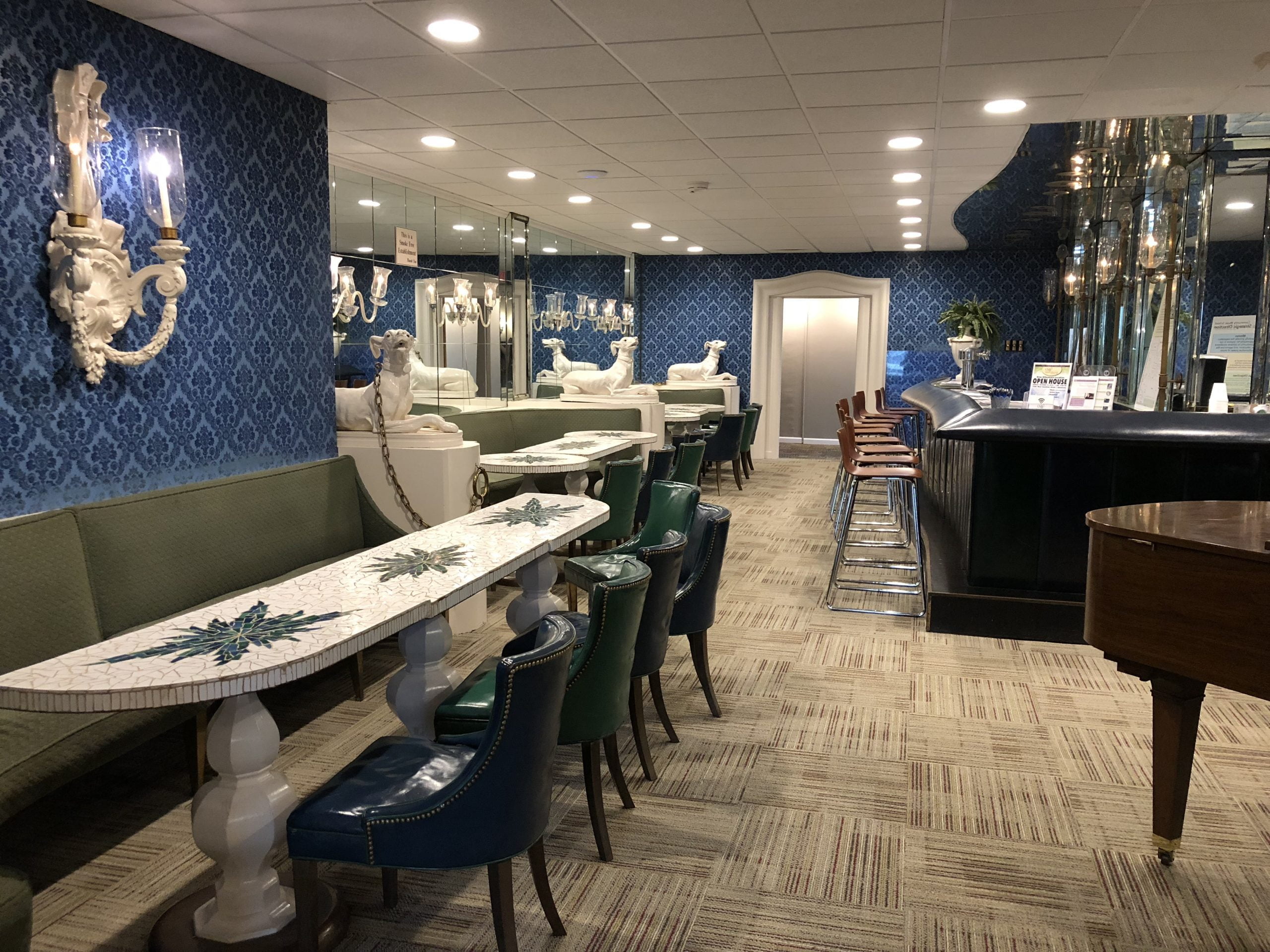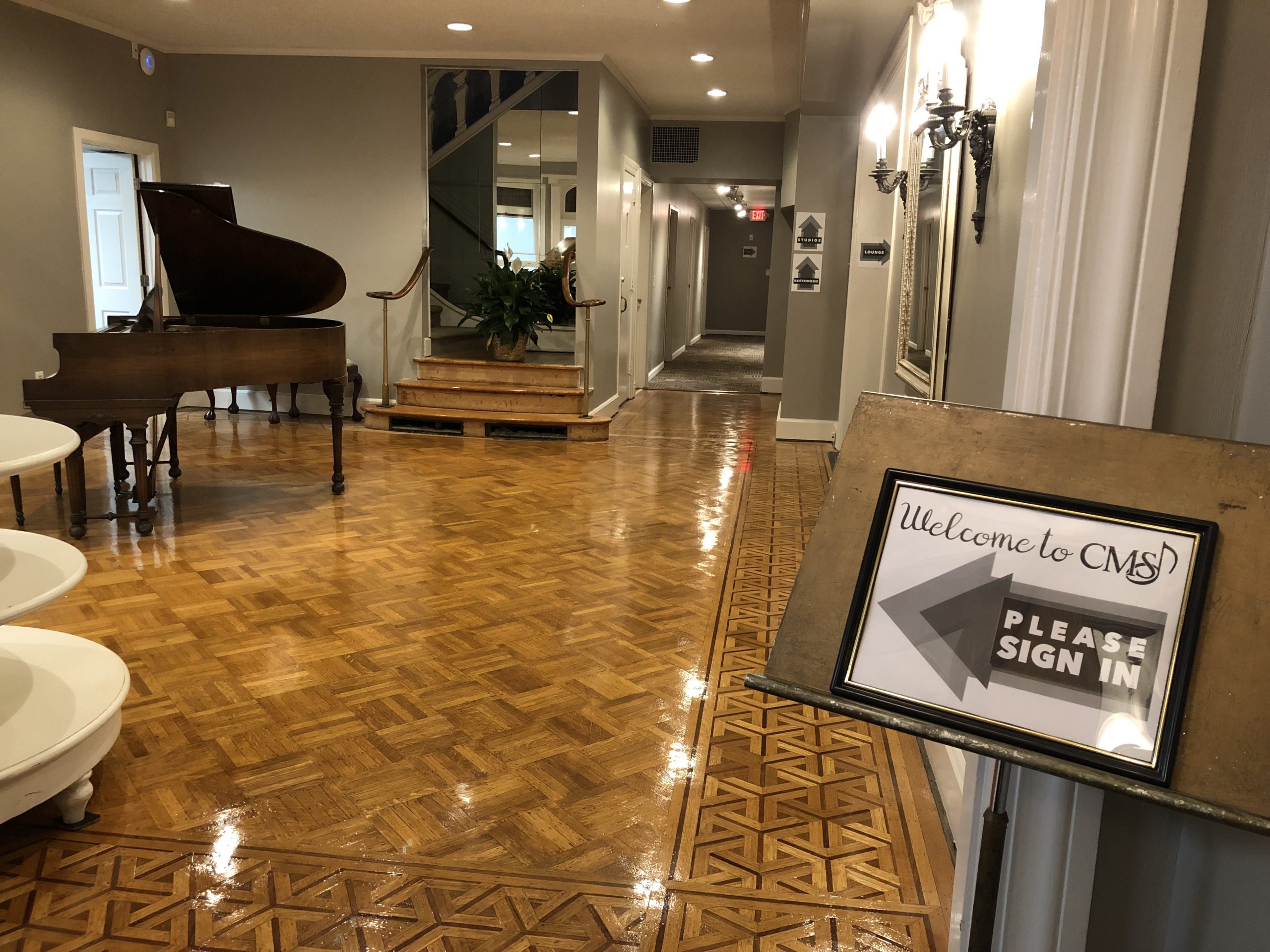 What are your event rental hours?
CMS functions as a music school Monday through Friday from 9:00 am – 9:00 pm. Therefore, event rentals must take place on a Saturday or Sunday on dates when there are no planned CMS functions, unless we can make special arrangements. Tours, calls, or appointments during your event planning process must take place during business hours of Monday through Friday, from 9:00 am – 5:00 pm.
Is your facility handicap accessible?
Yes. Please contact CMS Event Rentals for further information.
Is there a minimum guest capacity?
No. The only requirement we have is that all rentals are for a minimum of 2 hours.
Can I rent more than one room at a time?
Yes. We offer a discount if you rent both the Dorothy H. Baker Hall and the Hess Lounge for your event. The Hess Lounge would be a great place to have a cocktail hour before a reception in the Dorothy H. Baker Hall. Use of the kitchen and the Judith Ruhe Diehl Entry Hall are included with each package. Other spaces that may be useful for your event, such as the studios and our kids room/coat room, are available for additional fees.
Do you provide food, drink, and service?
CMS does not provide any in-house catering or alcohol services. Guests can arrange for catering, or bring their own food and alcohol. Please inquire about our recommended caterers. Any alcohol must be served by a licensed bartender who follows the guidelines set in CMS event rental policies. CMS is a smoke-free facility and campus.
Do you have a kitchen?
Yes, we have a small kitchen that can be used for simple prep (includes counter space, refrigerator/freezer, microwave, and sink). We do not provide coffee makers or any other appliances.
What is the parking situation?
There is a free parking lot adjacent to the building (entrances from Hamilton St., Fulton St., and 16th St.).  Guests can park in any spot that is not permit-only. There is free overflow parking on the neighboring streets.  View on Google Maps.
Is there an event planner, day-of-event coordinator, or event staff available?
We are not wedding or event planners; we simply help to coordinate the details of your event as it relates to the CMS facility.  Please feel free to set up a call or appointment during business hours to discuss any needs during your event planning process. We do not manage logistics with outside vendors unless they call or set up an appointment to tour the building to discuss event needs.
We also do not provide a day-of-event coordinator. However, there will be a staff member on site for the entirety of your event (including set up and clean up). This staff member is responsible for ensuring that you and all guests comply with CMS event rental policies and that the building remains secure (CMS does not issue building keys or access codes to you).
Do I need to provide linens and dinnerware?
We do not provide tablecloths and napkins, flatware, glasses, dishes, serving utensils, or paper products for food service. Most caterers will provide these items for your event upon request.
Are CMS musicians available to play at our event?
Faculty members are available upon request. Examples of performers/groups that can be arranged are solo artists, background performers, string quartets, and our jazz band. Please inquire for recommendations and availability. We can also provide a musical petting zoo for children's birthday parties or events. Additional fees for piano usage and musicians apply.  
If you are planning to hire your own musicians or DJ, please inquire about equipment and set up needs.
Do I need to pay a deposit?
CMS will hold a requested date for a total of five business days. A 50% deposit and a signed and returned Rental Agreement are required to secure the event date.
Do rental fees include time for set up and clean up?
Vendors and renters have two free hours prior to the event for set up, and up to two free hours following the event for clean up, as long as these hours are between 8 AM and 11 PM.  Additional time that exceeds a total of two hours for set up and two hours for clean up will be subject to the hourly fees for the selected package. CMS will be happy to arrange for set up of tables and chairs, with adequate advance notice. The facility must be left in the same condition as it was found. Set up and additional clean up by CMS maintenance personnel is included in the rental fee. After the event, renters must bag and remove all trash and place it in the large dumpster in our parking lot.
Is event insurance required?
The renter is responsible for any damages caused by the renter, renter's guests, or service providers to the building, any damage to appliances, furniture, instruments, and equipment, as well as theft or injury that occurs during the contracted time. CMS requires the renter to obtain general liability insurance coverage up to $1,000,000.
If alcohol is served, liquor liability insurance is required as well. Further information can be found in the CMS event rental policies.
Do you offer any discounts?
We have different pricing tiers for our packages depending on the type of renter. The different tiers include 1) CMS family, employee, or board member, 2) private renter, 3) nonprofit organization, and 4) business. We also offer a discount if you combine the Dorothy H. Baker Hall and the Hess Lounge in your package.
What are the additional fees that may apply?
Required:

Cleaning and Set Up: $100 flat fee per rental

Optional (based on availability):

Use of piano (concert grand or grand)… $50-$200
Musical Petting Zoo, great for children's birthday parties… $150
Background piano music (professional pianist/faculty)… $100/hour
Music provided by CMS (string quartet, jazz band, etc)…  please inquire; cost varies
Renting additional spaces within the building… cost varies
Piano tuning and/or repairs… $150 as needed
Event overtime… $100/hour
Additional cleaning/repairs as needed… $50/hour
What is the cancellation policy?
If the event is cancelled up to two weeks (10 business days) prior to the event, CMS will issue a 100% refund. Any cancellation after the allowable time will result in a 50% refund.