Community Music School offers high-quality private lessons in piano, strings, woodwinds, brass, percussion, and voice. The School also offers a solid foundation in music theory. Our professional teaching faculty provides individualized learning, both in-person and online, for children ages 5+, teens, adults, and seniors. CMS offers numerous free public performance opportunities. We encourage, but do not require students to perform in our regularly scheduled recitals.
New students are welcome to enroll anytime.  Review the links below, then click Sign Up Now to schedule your interview lesson.   All interview lessons are $33 for 30 minutes and must be paid at time of scheduling.  CMS offers a limited number of donated instruments for rent.   Due to the COVID-19 pandemic, we are accepting only online students at this time.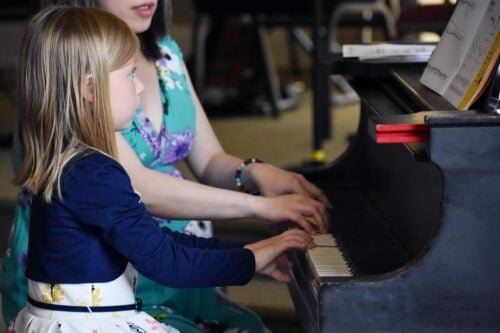 Tuition for Private Music Lessons
Monthly Payments – Automatic Billing on Debit or Credit Card
30-minute lessons – $132 per month
45-minute lessons – $196 per month
60-minute lessons – $260 per month
Students prepay for lessons on the first of each month. Financial aid is available for approved students 18 years of age and younger whose families cannot afford the full cost of tuition.
$45 Annual Registration Fee
The annual registration fee is non-refundable and applies to the entire family for one calendar year.
SIGN UP FOR AN INTERVIEW LESSON TODAY!
Please note that the interview lesson time selected here is a request only.  Once we receive your inquiry, the office will contact you to confirm the interview lesson day and time.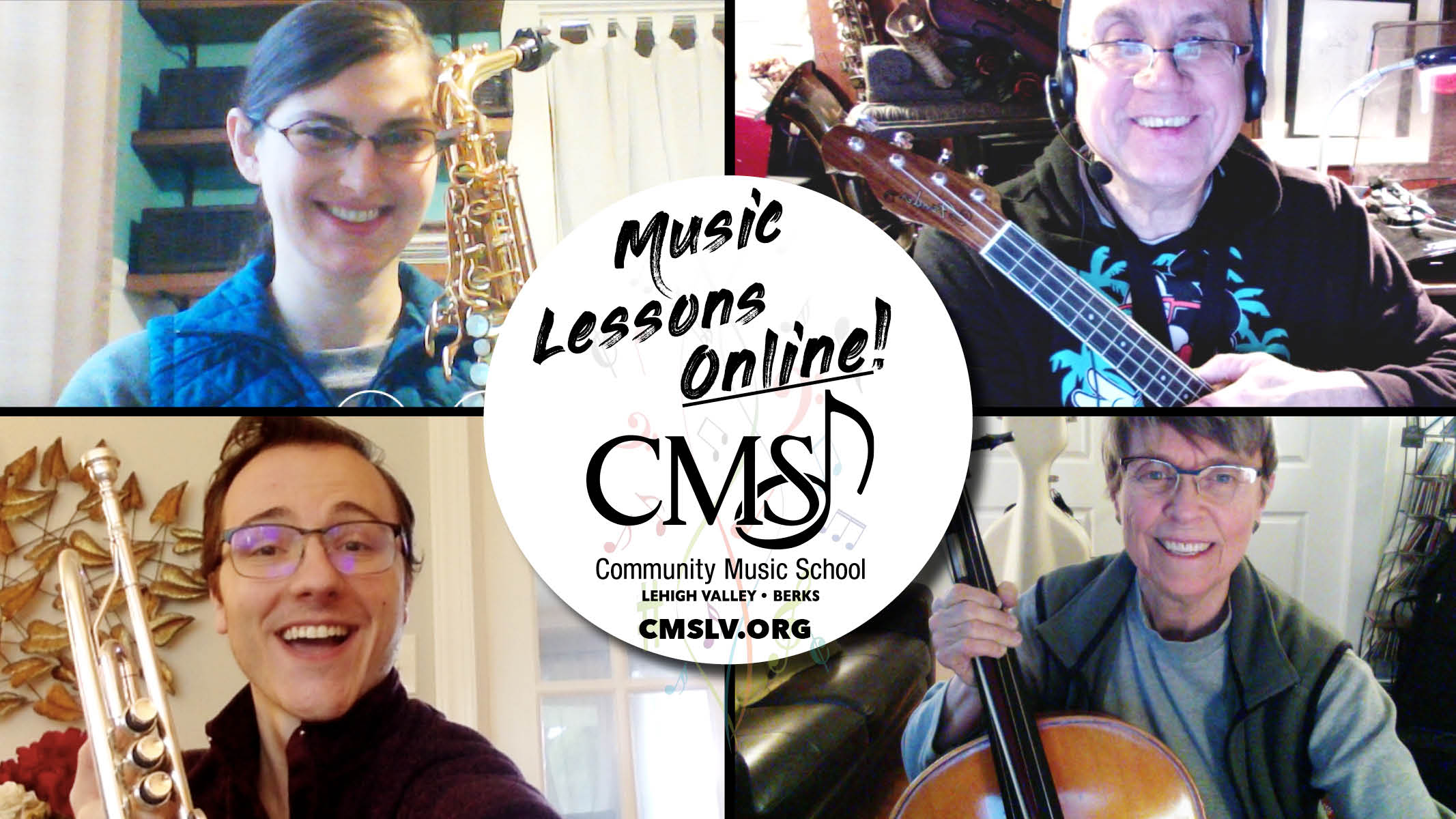 Online Lessons
Learn to play an instrument in the comfort of your own home from our professional teaching musicians based in the Lehigh Valley.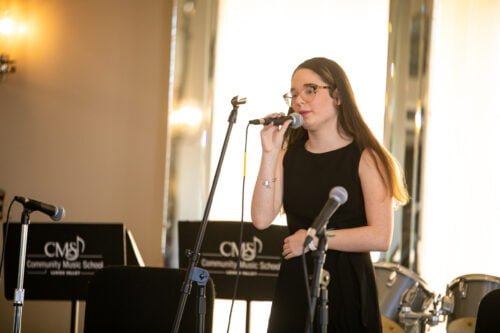 Coaching Sessions
Are you trying out for a musical?  Are you applying for admission to a charter school for the arts?  Do you need music theory to prepare for college?  Short-term coaching session packages in any instrument, voice, and music theory are available to fit your needs.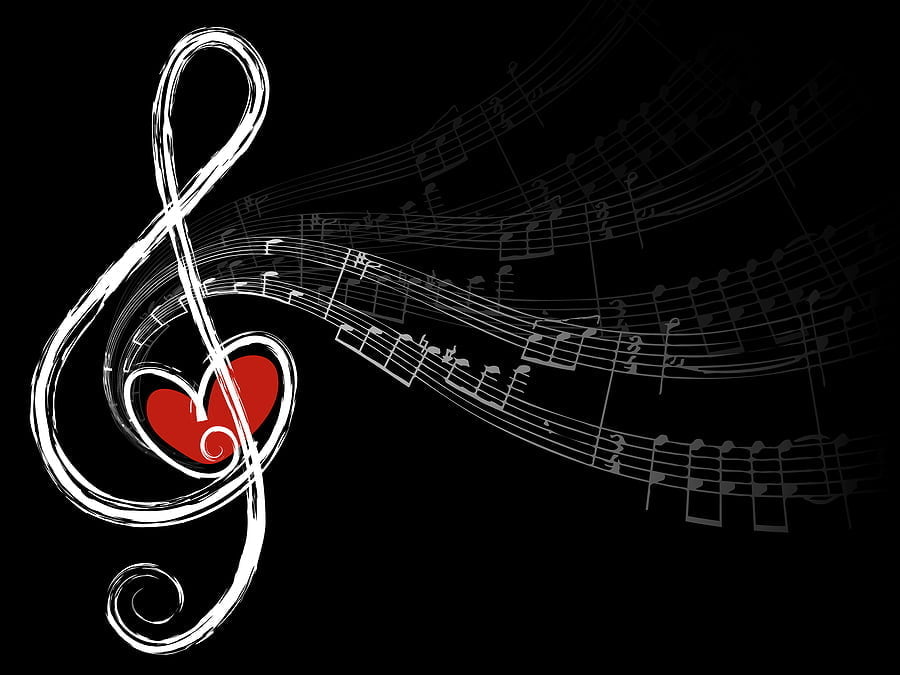 Music Therapy
Music therapy is designed to meet the needs of children and adults with physical or mental challenges. Music therapy uses music to address physical, emotional, cognitive, and social needs of individuals of all ages.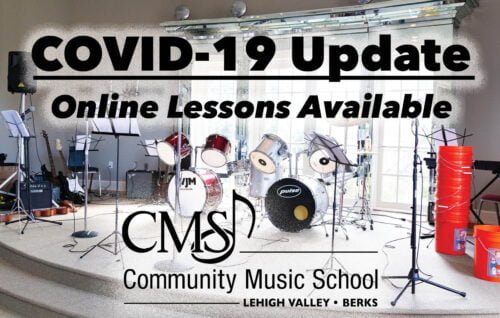 For the safety of our students and staff and in compliance with government mandates, CMS suspended all in-person lessons, group classes, and events on March 16, 2020.  The CMS building will remain closed until the state-mandated COVID-19 restrictions are lifted, and the Director and the CMS Board of Directors determine that it is safe to resume in-person activities.
CMS continues to offer online lessons to all students, and new students are welcome to enroll anytime.
The CMS administrative staff is working from home and is available Monday-Friday, from 9:00 am – 5:00 pm, at 610-435-7725, or registrar@cmslv.org.
WHAT AGES CAN ENROLL?
We teach all ages, from young children to mature adults. While the maturity level varies from child to child, most children age 5 or older have an adequate attention span for a 30-minute lesson. CMS recommends piano or violin for beginners, because these instruments give access to the full range of the musical scale, allowing the student to develop a solid foundation for future musical development. This allows students to learn to read notes on both the treble and bass clefs and to develop hand/eye coordination. We also offer Kindermusik for ages 0-4. Check out this great article about the
stages of musical education
.
HOW DO I GET STARTED?
To schedule an interview lesson, please submit an online request through
TeacherZone
or contact the main office at
610-435-7725
or
info@cmslv.org
. The interview lesson is $33 for 30 minutes and must be paid in full at the time of scheduling, even if you intend to apply for financial aid. After the interview, the Registrar will contact you to ensure you wish to continue with that teacher/day/time and to set up a payment plan.
MY CHILD LOVES TO SING AND I WANT TO GET HIM OR HER INVOLVED IN MUSIC. WHAT DO YOU RECOMMEND?
We offer
Kids Choir
for children ages 6-11 to help them develop proper singing technique, read music, and listen to each other. Once the child's vocal chords are more developed, we offer private voice lessons focused on the child's interests.
WHAT INSTRUMENTS DO YOU OFFER?
DOES MY CHILD NEED AN INSTRUMENT?
Yes, students must supply their own instruments so they have access to practice regularly at home. In the case of a piano, if space is an issue, a high-quality keyboard with at least 66 weighted keys is a good option. A weighted keyboard will cost a little more, but the keys will feel more like a regular piano and allow for better volume control. If you are not familiar with the instrument, please discuss the student's needs with the teacher before purchasing or renting. Contact the CMS office for rental recommendations and information on discounts for CMS students.
WHAT BOOKS DO I NEED TO BUY?
The teacher will determine the student's goals/abilities and recommend study materials. Occasionally, the teacher will purchase the music for him/her, rather than asking you to go to the music store. It is the parent's responsibility to reimburse the teacher for the purchase.
DOES CMS SELL INSTRUMENTS OR BOOKS?
CMS has a limited number of music books and donated instruments available for rent or purchase, but we recommend you rent or purchase your instrument from a reputable dealer. Please contact the office for recommendations.
WHEN WILL MY LESSON BE?
Once you are established with a teacher, your lesson will be at the same time, once a week, continuing for the semester.
WHEN CAN I START LESSONS?
Anytime! CMS offers open enrollment throughout the school year and summer.
HOW MUCH DO LESSONS COST?
30-minute lessons are $33, weekly. As the student advances, 45-minute lessons ($49 weekly) and 60-minute lessons ($65 weekly) are also available. Group classes or ensembles are $12 or $18 per week, depending on length. The annual family registration fee of $45 is charged with the first lesson of each school year ($20/annually for group lessons only). Financial aid is available to those who qualify. A discount is available for lessons paid in full before the beginning of the semester or on a 4-month auto-pay plan.
HOW DO I PAY FOR MY LESSONS?
All lessons must be paid by credit or debit card through your online account with TeacherZone (automatic monthly or weekly payments), unless you have received Director approval for an alternative financial aid payment plan. CMS accepts all major credit and debit cards, checks, and cash.
WHAT IF I CAN'T MAKE MY LESSON THIS WEEK?
If you are sick or have a last-minute scheduling conflict, please contact the main CMS office at
610-435-7725
as soon as possible so we can notify your teacher that you will not be at your lesson. Since our teachers have reserved a specific time for your lesson, CMS does not provide makeup lessons, credit, reimbursement, or refunds for missed lessons and unexcused absences or any absences beyond two (2) permitted excused absences per semester.
IF I MISS MY LESSON, CAN I MAKE IT UP?
Scheduling private lessons is complex, and lesson days/times/teachers cannot be easily changed once students have committed to their times. CMS does not provide makeup lessons, credit, reimbursement, or refunds for missed lessons and unexcused absences or any absences beyond two (2) permitted excused absences per semester. Makeup lessons for excused absences are strictly limited to two (2) excused absences per semester.
Excused absences are defined as follows:
Student illness with notice to the office before 11 am on the day of the lesson
Required school activity or religious holiday with 7 days advance notice to the office
Death in the student's immediate family, including grandparents, aunts, and uncles
CMS does not guarantee a makeup for a missed lesson due to an excused absence. Payment for any missed lesson is due before the student's next lesson. Students with past-due accounts are not eligible for makeup lessons.
I AM IN A PLAY AND CANNOT MAKE MY LESSONS FOR THE NEXT MONTH. WHAT DO i DO?
Congratulations on your role in the play! Students enroll in lessons for the entire semester. CMS supports your performance aspirations, but cannot guarantee that the student's existing lesson day and time will still be available upon the student's return. A Request for Withdrawal Form must be completed by the student or parent and submitted to the office at least 2 weeks prior to the withdrawal. There are no credits or refunds given for missed lessons.
HOW DO I APPLY FOR FINANCIAL AID?
Download a PDF of the
financial aid application
or contact the office at
610-435-7725
. The form must be completed in full and accompanied by documentation for all sources of income for every person in your family or household (Federal Income Tax (IRS Form 1040), SSI Letter, Child Support, etc.) with a narrative explaining your family's financial circumstances. Financial aid is based on a standard fee schedule and does not include the annual registration fee. Financial aid is limited, and a new application must be submitted each year. All financial aid decisions are final, and all students pay a share of the lesson cost.
DO YOU OFFER SCHOLARSHIPS?
WHAT KIND OF PERFORMANCE OPPORTUNITIES ARE AVAILABLE?