Recording, Editing, & Production
Community Music School received a generous grant from The Presser Foundation to help fund the construction of and technology for a state-of-the-art audio and video recording studio.  The project was completed in November 2021.  It leverages the unique aesthetics and acoustics of the School's Dorothy H. Baker Recital Hall, the former dining room of the Lehigh Valley Social Club, and creates a live recording space for individual and ensemble musical performances, both instrumental and vocal. An acoustically-treated control room and recording isolation room were installed in studio spaces adjacent to the Dorothy H. Baker Recital Hall.  The control room serves as a professional recording space, as well as an education lab and classroom, with nine iMac computer stations where students can gain hands-on experience with industry-standard recording technology through a variety of new CMS recording classes.
Introduction to Recording
Do you want to learn how to record, edit, and publish your own original song, podcast, or music for a video?  Learn the basics of recording, editing, and publishing live music, using the latest technology, equipment, and software, including Logic, Final Cut, Sibelius, Waves, Allen and Heath, Neve, and Neumann. Our small classes (9 students maximum) will provide you with access to a state-of-the-art, professional-grade recording facility and our expert teacher, who is an experienced sound engineer. You will learn to use the same mics, preamps, and plugins as those found in professional recording studios. 
Ages
Ages 12+.  No prior music experience is required.
Dates
6 weeks, Saturday mornings
Winter 2023 Session
Jan 7, Jan 14, Jan 21, Jan 28, Feb 11, Feb 18
Spring 2023 Session
Mar 4, Mar 11, Mar 18, Mar 25, Apr 1, Apr 15
No class on Apr 8 (Spring Break)
Times
Class Time 10:00 – 11:30 AM 
Optional Workshop Time 11:30 AM – 12:30 PM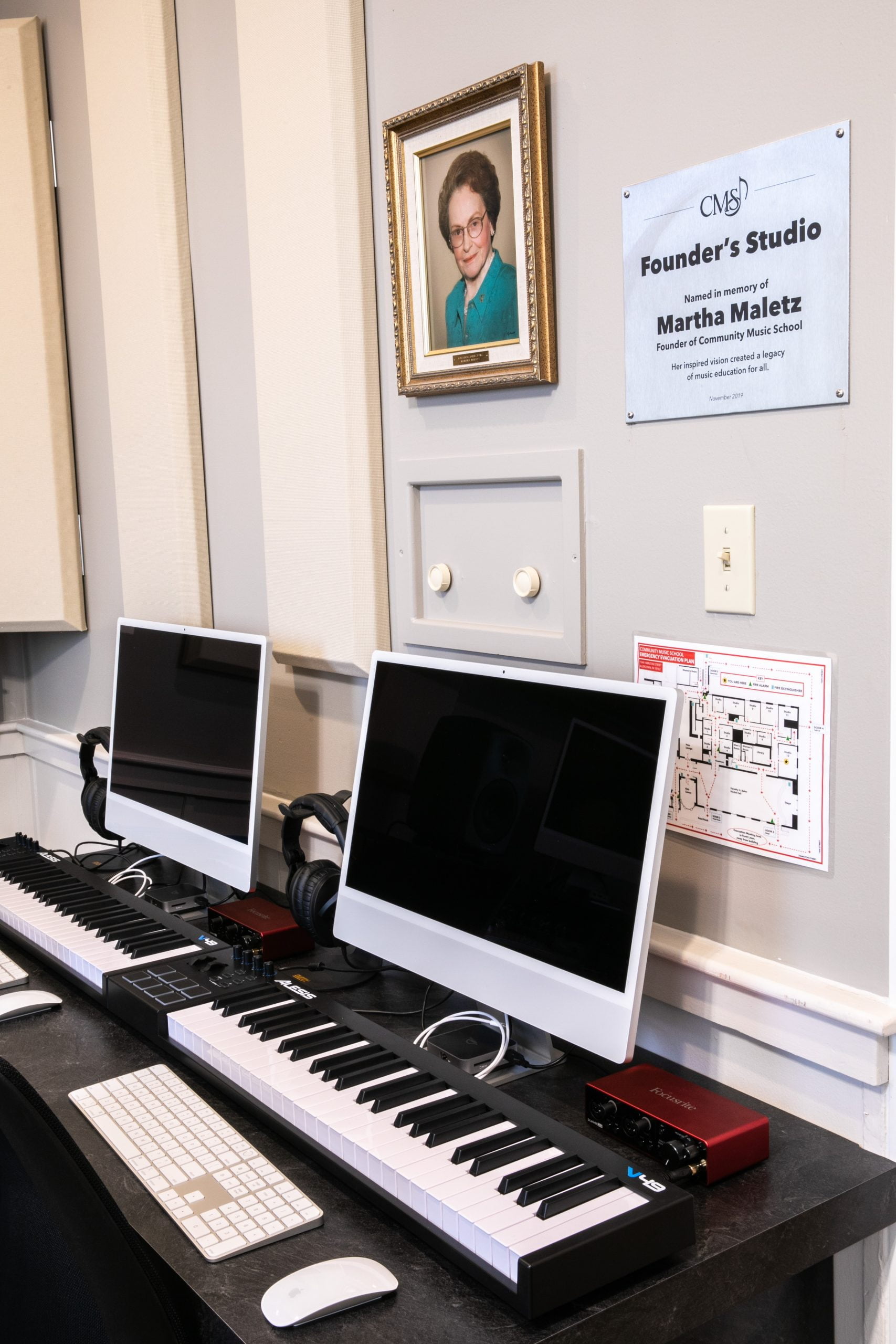 COVID-19 Precautions:

Under the guidance of the CMS Health & Safety Committee of the Board of Directors, CMS continues to mitigate the spread of COVID-19 as outlined in our Health & Safety Plan:

Properly Fitted Masks are Encouraged: For the safety of our students, teachers, and staff, everyone (age 2 and older) is encouraged to wear a tight-fitting mask at all times in the building.  Masks are required in certain situations:

Voice students and teachers, and students and teachers of brass instruments are required to wear face masks during their lessons, and they must use bell covers wherever possible.

Check-In & Wash Your Hands: CMS will provide hand sanitizer at check-in. Please use it and wash your hands in the restroom before your lesson.
Parent Waiting Area: Parents may wait in the entry lobby during their student's lesson or, with teacher approval, may join their student in the lesson studio.
Cleaning/Filtration: Studios are equipped with fresh makeup air ducts and ultraviolet light filters or a MedifyAir air purifier with HEPA and UV filtration. Surfaces are cleaned and disinfected regularly.
IF YOU ARE SICK: Remember, if you are scheduled for an in-person lesson and are sick or may have had a COVID exposure, do not come to the building.

There are no individual makeups for group classes, but a virtual option may be possible during the regular class time.
Sign Up for Intro to Recording