Suzuki Beginner Violin Class
Young beginner students, pre-Twinkle and early Book 1, will have the opportunity to play pieces they are already learning in individual lessons, but in a fun group setting with other students at the same level. Students will review previously learned skills and apply them to new pieces, and learn new techniques and apply them to previously learned pieces.
Group classes offer a fun way for students to complement their individual lessons, play together, and build their confidence as they develop rhythm, pitch, and general musicality.  Private lesson enrollment is a prerequisite for this class. 
Day & Time
Thursdays, 5:30 – 6:00 pm
Spring 2023 Session (6 weeks)
March 16, March 13, March 30, (No class on April 6, Spring Break), April 13, April 20, and April 27
Ages
Beginners, pre-Twinkle & early Book 1
Concurrent enrollment in private lessons is required.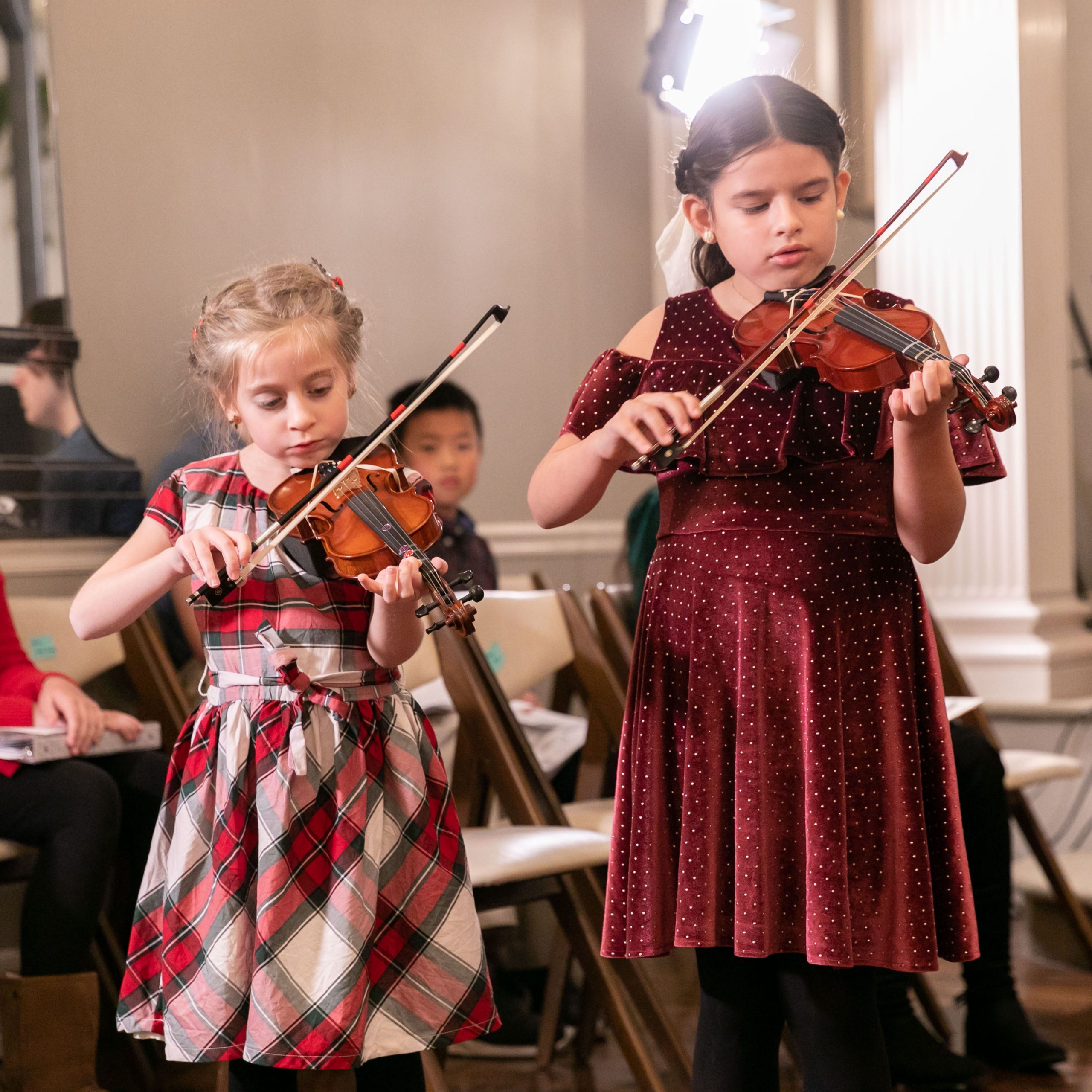 COVID-19 Precautions:

Under the guidance of the CMS Health & Safety Committee of the Board of Directors, CMS continues to mitigate the spread of COVID-19 as outlined in our Health & Safety Plan:

Properly Fitted Masks are Encouraged: For the safety of our students, teachers, and staff, everyone (age 2 and older) is encouraged to wear a tight-fitting mask at all times in the building.  Masks are required in certain situations:

Voice students and teachers, and students and teachers of brass instruments are required to wear face masks during their lessons, and they must use bell covers wherever possible.

Check-In & Wash Your Hands: CMS will provide hand sanitizer at check-in. Please use it and wash your hands in the restroom before your lesson.
Parent Waiting Area: Parents may wait in the entry lobby during their student's lesson or, with teacher approval, may join their student in the lesson studio.
Cleaning/Filtration: Studios are equipped with fresh makeup air ducts and ultraviolet light filters or a MedifyAir air purifier with HEPA and UV filtration. Surfaces are cleaned and disinfected regularly.
IF YOU ARE SICK: Remember, if you are scheduled for an in-person lesson and are sick or may have had a COVID exposure, do not come to the building.

There are no individual makeups for group classes, but a virtual option may be possible during the regular class time.
Payment is required to register.  If applying for financial aid, please submit your financial aid application before registering.