Now Accepting New Students for Online Music Lessons
Community Music Schools offers online music lessons from professional teaching musicians based in the Lehigh Valley, from the comfort & safety of your own home! Community Music School offers high-quality private instruction, including piano lessons, guitar lessons, woodwinds, strings, brass, percussion, and voice lessons. Our professional teaching faculty provides individualized learning and a solid foundation in music theory for children ages 5+, teens, adults, and seniors.
Online students will need access to an instrument, as well as a computer/tablet with a positionable camera, microphone, and reliable high-speed internet. CMS recommends that students use the Chrome browser with a wired internet connection for their online music lessons. CMS offers a limited number of donated instruments available for rent.
In addition to our online music lessons, CMS offers numerous free virtual performance opportunities. We encourage, but do not require students to perform in our regularly scheduled recitals.
New students are welcome to enroll anytime. Review the links below, then click Sign Up Now to schedule your interview lesson. All interview lessons are $33 for 30 minutes; this fee must be paid when you schedule the interview lesson.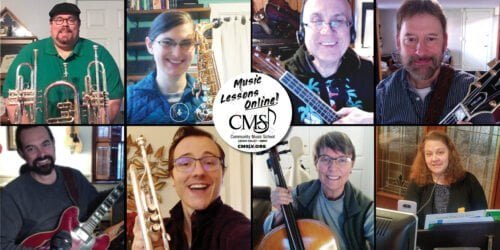 Tuition for Online Music Lessons
Monthly Payments – Automatic Billing on Debit or Credit Card
30-minute lessons – $132 per month
45-minute lessons – $196 per month
60-minute lessons – $260 per month
$45 Annual Registration Fee
The annual registration fee is non-refundable and applies to the entire family for one calendar year.
What our families are saying about virtual lessons at Community Music School
(CMS) got remote learning set up quickly and it's easy. Communications are always informative and appreciated. THANK YOU for providing my 3rd grader with a nice respite from this craziness, where he can connect with his favorite music teacher… and continue his lessons. I am so happy we found (CMS)!
"My daughter had her first virtual lesson tonight and she LOVED it! Thank you again for working so hard to keep CMS going during this scary time!"
"I am happy to see how quickly CMS and its talented teachers adapted to the stay-at-home order from the Governor and found alternative ways to provide online music lessons to students.  It is impressive that Ms. Kathy Anthony provides the same level of attention or maybe even more attention during my daughter's virtual piano lessons.  Thank you, CMS for not letting this difficult time affect our students' ability to learn, and also for providing a sense of normalcy."
SIGN UP FOR AN INTERVIEW LESSON TODAY!
Please note, the interview lesson time selected here is a request only.  Once we receive your inquiry, the office will contact you to confirm your tour and interview lesson day and time.  The interview lesson is 30 minutes and cannot be scheduled until payment is received.  Schedule your online music lessons by clicking the button below.