January 18, 2023
Justin Heimbecker, Executive Director
Berks Arts info@berksarts.org  610-898-1930)
Attention: Music faculty, band leaders, teachers and students!
Jazz, America's classical music, was born and still thrives in clubs and on front porches and other informal scenes. So, it is vital for students entering the world of jazz to have opportunities to learn in jams, where experienced and younger musicians play together. That is why Berks Arts is committed to providing such opportunities, not only during Boscov's Berks Jazz Fest, but at other times of the year.
Building on the success of last year's "getJazzed Jams on the Road" at the Settlement Music School in Philadelphia, Berks Arts has planned three days of collaborative jazz workshops and jams for students at Settlement's Mary Louise Curtis Branch, the Community Music School in Trappe, and the Community Music School Lehigh Valley & Berks in Allentown during February.
getJazzed is the educational component of the annual Boscov's Berks Jazz Fest, aimed at helping to develop the next generation of jazz musicians and audiences. It is part of Berks Arts' mission to promote arts education, and the Berks Jazz Fest presents a perfect opportunity for students to interact with professional musicians, both in workshops and in jams in which the students and professionals play and improvise together.
Beginning in 2022, Berks Arts decided to give the same opportunities to students in neighboring communities. "Sixty musicians attended the workshop and jam at Settlement, and had a great experience," said Berks Arts executive director Justin Heimbecker. 
This year, up to 50 students ages 12 to 18 can register to attend three separate events in Trappe on Feb. 4, in Philadelphia on Feb. 5, and in Allentown on Feb. 11. Each event will include a workshop conducted by professional and faculty clinicians, and a jam session by students and clinicians that will be open to the public. These events are free of charge for Berks County students and students of each music school. Others can attend for a $20 fee.
Karin Orinstein, dean of the Settlement Music School, commented that "we are thrilled to partner with Berks Arts and Boscov's Berks Jazz Fest for what we know will be another inspiring and memorable event for young musicians from all over our region. We can't wait to watch the creativity unfold on our stage in a few short weeks."
Participating faculty members from Settlement will be guitarist Alan Ens, vibe master Tony Miceli and pianist Scott Edmunds.
Matthew Wright-Conti, executive director of Community Music School in Trappe, said: "We are ecstatic to partner with Berks Jazz Fest to offer this unique opportunity to the students at Community Music School. Our mission is to enrich lives and communities by offering excellent music education, performances, and cultural experiences. The getJazzed program is affording us another opportunity to help us further that mission impact. It is rare that students have the opportunity to take the stage side by side with professional musicians, and this experience will be sure to make a lasting impression on their playing."
Trappe faculty members Alan Dynin, piano; Bob Schwanger, saxophonist, clarinet, flute; and Ryan Leaver, multi-instrumentalist, composer; will participate as a clinician.
"We are thrilled to collaborate with Berks Arts to bring this "getJazzed Jam on the Road" to Allentown," said Community Music School Lehigh Valley & Berks Executive Director Jeff Reed.  "Three CMS faculty members will assist Berks Jazz Fest artists with the workshops and jam session:  Dr. Andrew O'Connor (bass guitar & double bass), Griffin Woodard (piano & bass clarinet), and Daniel Gonzalez (drums).  The inspiring art-deco vibe of the Dorothy H. Baker Recital Hall at CMS is the perfect backdrop for an afternoon of jazz.  We encourage all young musicians who love jazz, and those who aren't sure whether they love jazz to take advantage of this great opportunity to learn hands-on from professional musicians, right here in downtown Allentown."
Additional Berks Jazz Fest clinicians for the events will include:
Matt Cappy, a trumpeter, composer, arranger, recording artist and touring musician who released his debut album, "Church and State," in 2017.
Kevin MacConnell, a bassist who has performed with classical and Broadway orchestras as well as jazz festivals and clubs, and tours regularly with the DePue Brothers Band.
Rob Stoneback, a trombonist, composer and arranger who has led the Rob Stoneback Big Band since 1979, which performs throughout the Mid-Atlantic region, including at Lincoln Center.
Andrew Neu, a well-known sax and wind player, composer, arranger, band leader, recording artist and educator who has performed as part of Berks Jazz Fest and GETJAZZED events in past years.
Maria Marmarou, a drummer originally from Kutztown, is a GetJazzed alumna who recently completed her bachelor's degree in music from Temple University. She is currently building her career, gigging in the Philadelphia area, and planning to start her master's degree.
The registration deadline is set for one week prior to each event and space is limited. 
For complete information on getJazzed Jams on the Road, and to register for the events, visit https://www.getjazzedberks.com/get-jazzed-on-the-road.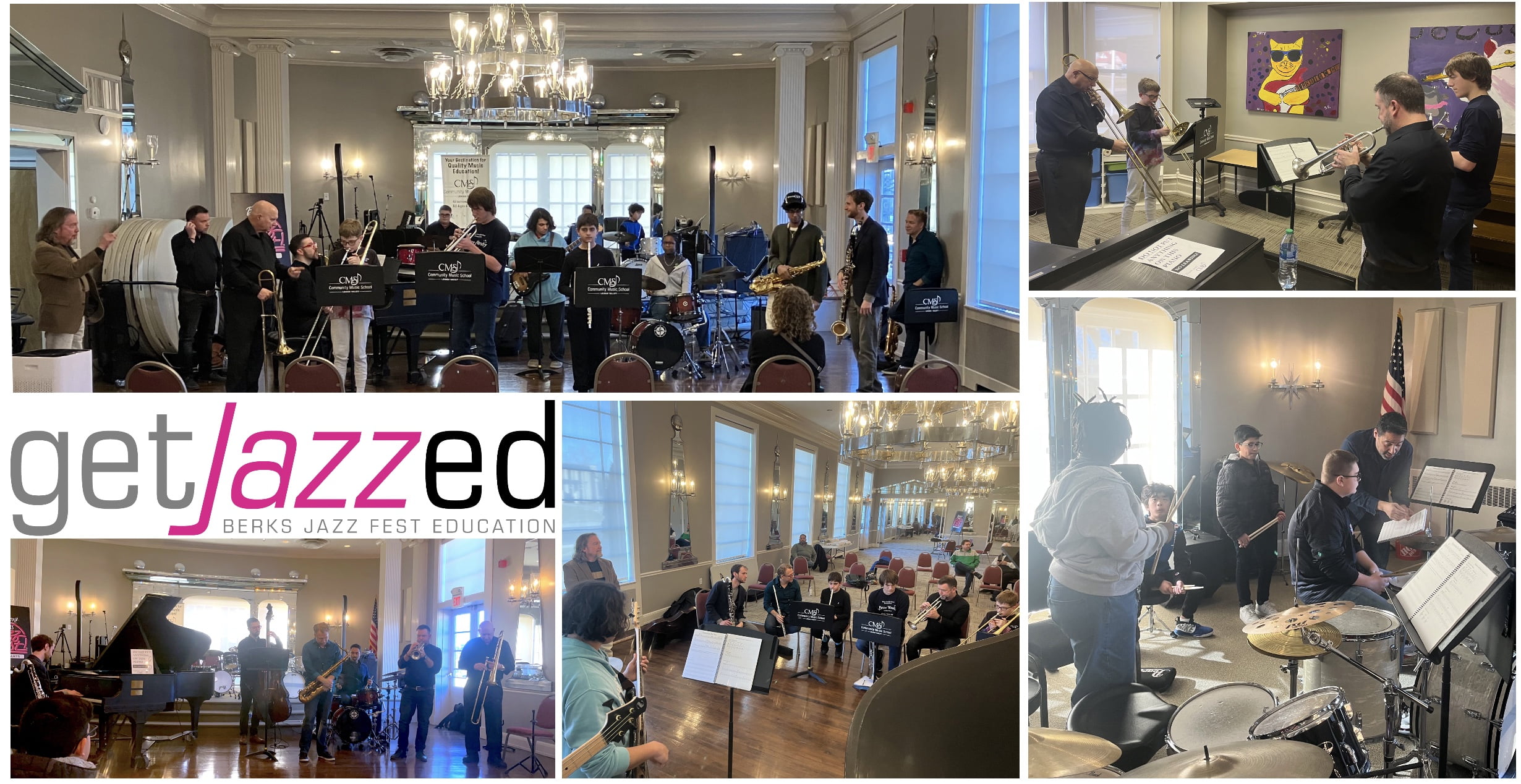 On Saturday, February 11, 2023, area students participated in clinics and jam sessions with professional jazz musicians at the first-ever "Get Jazzed" Day at Community Music School.  This program was a collaborative effort among Berks Arts, Boscov's Berks Jazz Fest, getJazzed, and regional music schools.  We thank CMS faculty members Griffin Woodard, Daniel Gonzalez, and Dr. Andrew O'Connor who served as clinicians for this event, along with local musicians Matt Cappy, Rob Stoneback, and Andrew Neu.  What a fun day of jazz!