As a non-profit charity, CMS relies on the support of our donors and volunteers to make it possible for us to provide affordable music lessons to everyone in our diverse community. We want to give a shout out to our dedicated volunteers currently helping out on several on-going projects here at CMS:
Lauren (far left) and Sally (center) continue to tag-team on organizing our extensive library of donated music. Lauren a life-long flutist and is currently a pre-med student at Lehigh University, where she also sings in the choir. Sally is a retired music teacher from Salisbury School District and our "Marie Kondo" of sheet music. Thank you both for lending your amazing organizing skills in our library!
Ajai (far right) comes to CMS through The Arc of PA's Discover Employment Transitions (ADEPT) program, which helps match students with disabilities for the workforce. Ajai attends the Parkland School District and comes to CMS on Monday mornings, where he waters the pianos, cares for the plants, refills the water and coffee supplies, and cleans up the Kids Room toys. He loves art and music, including playing the piano and singing Adele songs to the staff.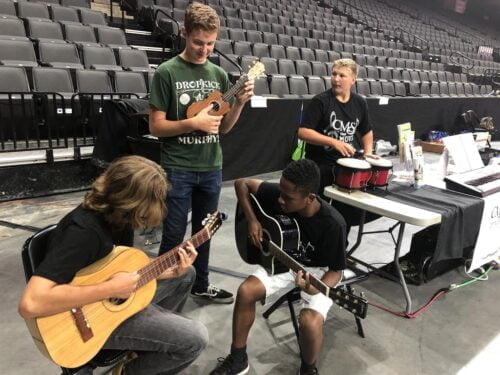 CMS student volunteers help with the Musical Instrument Petting Zoo at the Senator Browne Expo at PPL Center 8/19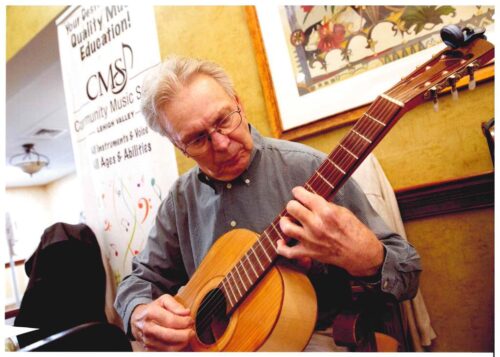 Volunteer, Ken Tietjens, demonstrates the guitar at the Senior Expo at Country Meadows. Did you know… over 20% of CMS students are adults! 9/19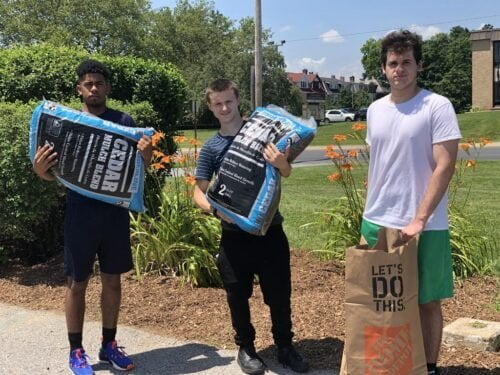 Three students spent nine weeks over the summer working at CMS through Via of the Lehigh Valley's Student Work Experience. They maintained the grounds, cleaned and painted the instrument storage room, and assembled more storage shelves. Now all our donated instruments are easily accessible for students.