Great Job to all our Students!
This past Saturday, CMS students of all ages, many wearing Halloween costumes, performed a variety of classical and contemporary music in our virtual Monster Concert.  If you missed the live premiere, you can watch the full performance here: 2020 Monster Concert
We thank all our student participants: Eloise A., Lizzy A., Alexander B., Drew B., Jacob B., Madeleine B., Vivienne B., Shriya C., Siddharth C., Abby D., Craig F., Ananya G., Rachele G., Alex H., Nora H., Peter H., Victoria J., Dan K., Rene K., Ian L., Jessica L., Savion L., Ceiran M., Isel M., Claire P., C.J. R., Josiah R., Logan R., Valery R., Aanya S., Daniel S., Saina S., and Johan T. 
We also thank  the CMS teachers whose students were represented in the performance: Carole Houghton, Carolyn Gaul, Cliff Tracy, Dr. David Saturen, Elaine Martin, Julia Walsh, Kathy Anthony, Linda Kistler, and Matthew Nieznay.  Great job, everyone! 
Monster Concert Costume Contest Winners 
Congratulations to our winners! We thank our contest judge, Board President Carmen Flosdorf.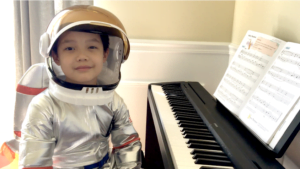 1st Place: Drew B. – Astronaut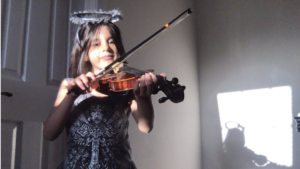 2nd Place: Saina S. – Dark Angel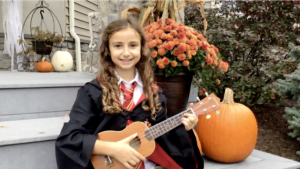 3rd place: Nora H. – Hermione Granger (Harry Potter)
SAVE THE DATE for our virtual Holiday Recital – Sunday, December 13 at 2:00 PM, on YouTube.