Help Students In Need Find Hope and Joy Through Music at CMS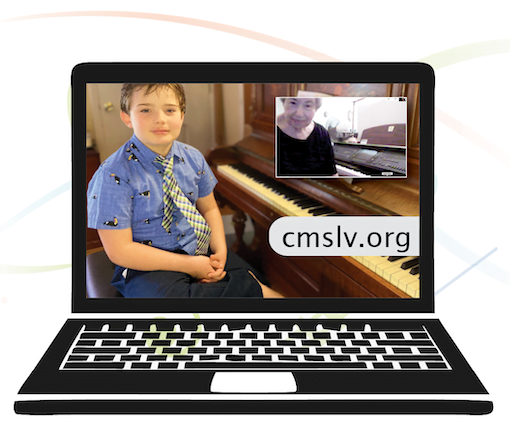 Read one family's CMS story
" …we never imagined we would be in the position to need such assistance. We always prided ourselves on giving, in the small ways we were able."
After showing interest and a budding talent for the instrument on his own, our son began piano lessons at Community Music School in January of 2018. We found the tuition fair and affordable, and along with his karate classes, music lessons were a perfect extracurricular to round out the life a first-grader in the Allentown School District. It was a stretch to our budget, but we felt it important to offer him, and we made do.
In February of this year at my job directing private dining at two of the Lehigh Valley's most successful fine-dining restaurants, I received a big raise and an extra week of vacation after outstanding performance in 2019 and a promising outlook for even better success through 2020. When the pandemic hit the US the next month, there was a big reversal. With a great deal of uncertainty about the future, ownership reduced manager salaries significantly across all five venues. I contacted CMS to let them know we'd need to take a break from enrollment until it became clear how things were going to play out, but we heard back that a generous benefactor had made a special donation to assist families affected by Covid, allowing Junior to continue lessons virtually — a huge blessing in the time of lockdown, as online school was understandably a work in progress, and everything else in his life had been canceled. CMS had planned ahead, and through the hard work of the Director and his team, they were able to pivot quickly and seamlessly to offer virtual lessons. We were thrilled, yet humbled by this development, as we never imagined we would be in the position to need such assistance. We always prided ourselves on giving, in the small ways we were able.
During the "red phase" of the quarantine, our five-year-old daughter was the focus of our fear and heightened precautions, as her living with Cystic Fibrosis — a life-threatening respiratory disease — amidst a life-threatening respiratory virus, caused a lot of anxiety for our family. During this time, she picked up an old ukulele we had lying around, and little "jam sessions" were born — bright spots where we marveled at the kids' creating together and the Joy that this brought to their faces.  CMS organized virtual recitals, where our son and the other students recorded their performances at home and then the staff produced a fun presentation for family and friends to enjoy and to see their progress. Our daughter wanted to be a part of that also.
As things reopened steadily through the summer, it seemed as if cash-flow would be returning to normal, and we could resume full payment for the piano lessons — maybe even start ukulele lessons for the girl.  These hopes were dashed with Gov. Wolf's restricting private events back to "no greater than 25" in mid-July. The forecast for private-dining revenue through year's end was dismal, and I lost my job the week that the extra $600 in federal unemployment assistance expired.
My wife and I were devastated by this unexpected turn of events, but one blessing was that CMS was able to offer a scholarship not only for the boy's piano lessons, but also for the girl to start ukulele — still exclusively online.
For both of our children these lessons have been central to their every day. The routine and discipline of practice have created a structure for their after-school hours and weekends. They are thriving on the challenge of every new song, and the sense of confidence and accomplishment that they enjoy as they play through each that they've learned. They look forward to their weekly lessons, and each has developed a very positive relationship with their teachers, who have bravely stepped up to the challenge of teaching through the computer — something I don't think they ever imagined would be asked of them.
I am daunted by the future and a job market which sees thousands clamoring for each position. But our house is full of music. Our kids make up songs about anything and everything, and they have adapted to this "new normal" so well thanks in large part to the opportunities that we could never dream of affording them otherwise.
We are able to meet the expenses for our daughter's care, and to budget funds for our daily needs. But these lessons are not a "luxury." They truly have become an essential component of our family's Spirit. And for that, and to the school — but most importantly to the generous donors who support CMS and make this possible for us and to others in need — we are unspeakably grateful.
Very Respectfully,
Craig Farley & Family, Allentown, PA
As we approach the end of 2020, a year unlike any other in our history, I am reaching out to you and other friends of Community Music School to ask for your financial support.
The Good News   is that since the onset of the pandemic in March, we have not missed a beat at CMS. We had a contingency plan in place and successfully shifted most students to online lessons with their CMS teacher. We quickly found a way to present our student recitals online using the YouTube platform, and our teachers and students have adapted beautifully. Our staff is working safely from home using advanced technology tools.
The Bad News  is that many CMS families are facing sudden unemployment or reduced hours as result of Covid-19 and are struggling to pay for music lessons for their kids. In our 2019-2020 school year, after Covid, we increased financial aid by 20% to $61,000 to help impacted families afford weekly music lessons. This year, we expect the need will be 11% greater, and that student financial aid will require over $68,000 in donations.
The other challenge we face is that we are unable to safely host our group classes and ensembles, and this means that we are unable to collect tuition for these activities. The result is we expect a 20% decline in our budgeted revenue this year, through no fault of our own.  We have cut discretionary expenses, but we really need your help to sustain our school and our defined priorities: accessibility, inspiration, opportunity, and excellence.
How You Can Help  In this season, please consider a generous gift to CMS that will help us help others in need by giving the gift of music education.  Please considering making a one-time or monthly gift here.  On behalf of our students, teachers, staff, and Board of Directors, I thank you for supporting quality music education at CMS!
Sincerely,
Jeff Reed, Director
Thank You for Your Support!